If you were one of the many unlucky people that did not get their hands on a ticket to the SOLD OUT Bad Suns show this past Sunday, March 5 continue reading for a mediocre description of one of the best concerts I have been to in a long time. If you were one of the lucky ones that got to go, read on for the #Throwback.  After all of us got our standing positions at the rave bar, we were introduced to From Indian Lakes(FIL). In my opinion, they provide great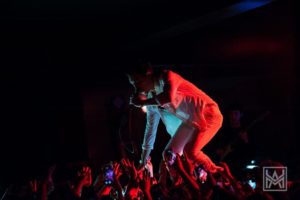 music to relax to, but not something you would want to listen to while running your 5k in the morning. Their music can be classified as Indie Rock, but I think could float between rock and pop depending on the song. I typically can be found listening to Avenged Sevenfold right after rapping my heart out to Nikki Minaj so I found FIL to be very soothing and melodic. I thought this was the perfect band to open for Bad Suns since indie rock is the base of Bad Suns and they tend to go to pop from there. It was as though the genres of Indie Rock and Indie Pop were clearly defined just by listening to From Indian Lakes and Bad Suns back to back.
Bad Suns, absolutely nothing bad to say about them. Honestly, the only negative thing was how small the room was! I would have loved them to play in one of the larger rooms of The Rave (who knows, someday soon?) The sound technician did a great job of mixing the sound and the guys of Bad Suns did a great job of playing. This is one of those bands that sound the same live as they do on their album, which I believe is a testament to their musicianship. At first listen, you might not think that you would dance to any of Bad Suns songs, but it was difficult not to dance when everyone else is dancing around you! Nothing but good vibes were felt throughout the crowd (someone did faint however, no worries it was hot and she was 100% the last time I spoke to her).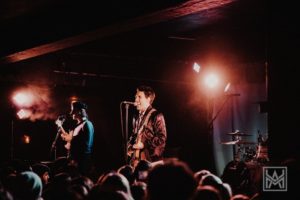 Christo Bowman, lead vocalist of Bad Suns was feeling it too as by the end of the set he was down to his tank that was under a windbreaker and a white button down. He probably couldn't help himself after he walks on the crowd and the bar! When it comes to the music, they played a little out of both of their albums, Language and Perspective (L&P) & Disappear Here. Usually, when a band continues making albums, the sound tends to change. One thing that I can say is that "Disappear Here's" songs may be a little more in the Pop genre, they are same in the core sound as L&P.
I was able to grab a moment of Bowman's time before the set to ask some questions!
AH: Bad Suns has done quite a bit of touring since "Language and Perspective". How do you think touring with bands like The 1975, HUNNY and New Politics has influenced you?
CB: Being on the road for so long has taught us how to be a band. We were fresh out of the garage when we started touring; it feels like the real deal now.
AH: Touring requires a lot of time on the road, how do you keep yourself busy?
CB: I like to read books on long drives. We'll also watch movies together or play mind numbing amounts of Halo.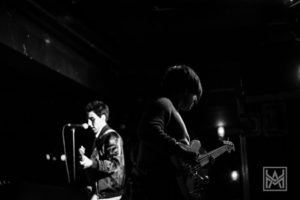 AH: If you had to summarize your music in 10 words or less, what would they be?
Better listened to than spoken about.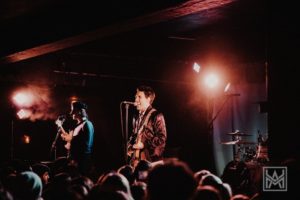 AH: What is your favorite part about performing across the country?
CB: All that comes with it. Waking up in a different city every morning, having a show to look forward to in the evening, playing the show(!), meeting our fans in each state… these are some highlights.
AH: What do you see as similarities between your debut album, "Language and Perspective" and your sophomore album "Disappear Here?" Which one did you have more fun recording?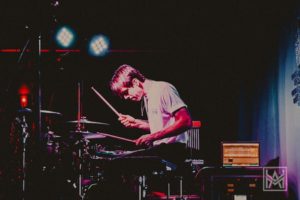 CB: At the end of touring our first album, we were much more confident as a band and felt a stronger sense of identity. We explore a more diverse emotional territory on this album, but we didn't feel the need to drastically alter the sound. Instead, we updated it. We let our instincts guide us. Making 'Language + Perspective' was fresh and exciting; making 'Disappear Here,' we had a better sense of what we were doing and the resources which allowed us to spend a few months in a rehearsal room jamming and writing together, all damn day long. That was amazing.
AH: Do you have any advice for local bands that are looking for the same success?
CB: If you're really serious, work hard for years and don't stop. Don't look for shortcuts and don't expect an easy ride. Find the right band members and don't be discouraged if it takes longer than you want it to. Making music you love with people you love is well worth the struggles that come along with it.
If you missed the show, you can find their albums on any of the online music providers (Itunes, Spotify etc) as well as physical copies from the band's own merch store(www.badsuns.com). If you find yourself near any of the other stops on their tour, make sure to stop out!
<!–
–> AUTOAYUDA CRECIMIENTO PERSONAL